The Isles of Collier Preserve by Minto Group
Posted: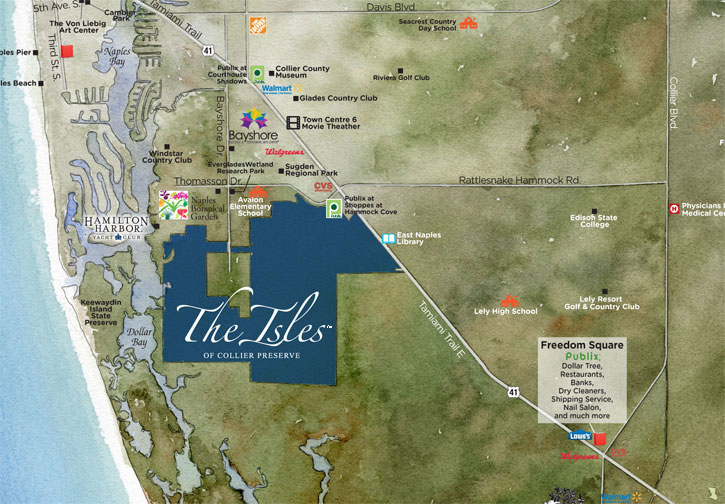 February 17, 2014 (original post date)
The Isles of Collier Preserve is a brand new development set to open its doors on February 22 for an open house for the public.  Its located four miles from downtown Naples on U.S. 41 East, south of Thomasson Drive.
The grand opening will include food, guided trolley and boat tours, kayaks for exploring, golf cart nature tours and live music. The Discovery Sales Center and six fully furnished model homes will be featured.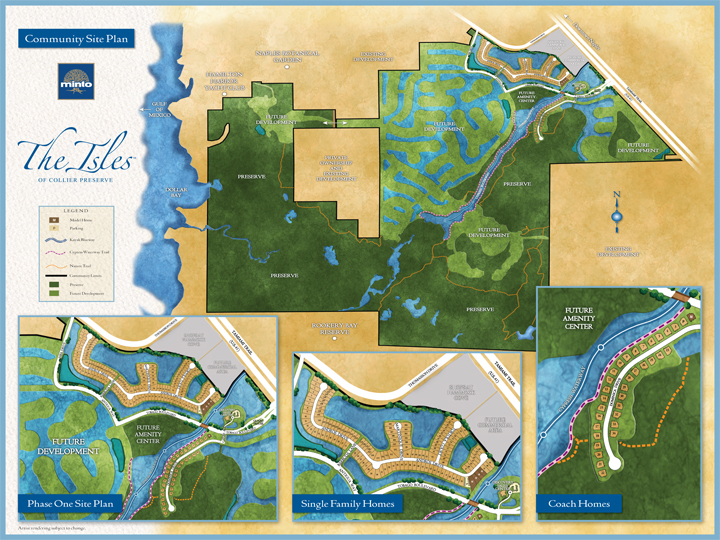 The Isles of Collier Preserve site plan
The Isles of Collier Preserve is a 2,400-acre, eco-friendly community bordered on the south by Rookery Bay National Estuarine Research Reserve, the north by Naples Botanical Garden, and the west by Naples Bay.  The Isles of Collier Preserve has been meticulously planned by Minto to protect the land and waterways that surround it, and to create a sustainable community that is in harmony with nature.
There will be several residential offerings including coach homes that feature 2 bedrooms + den with 1,621 square feet to 3 bedrooms + den, 3 bathrooms with 2960 square feet.  Coach home prices range from $414k to $628k.  There are also 13 different floor plans for single family homes ranging in size from $460k-$755k.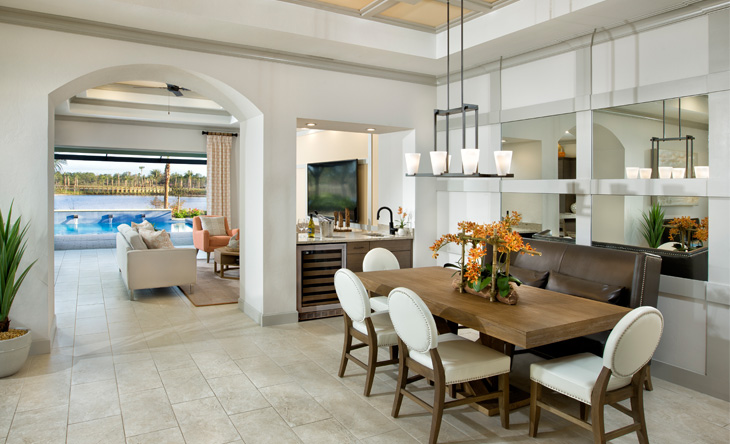 Interior View of the Alamanda Floor Plan
Minto Group is know for its green construction.  It offers a wide selection of innovative, energy-efficient home designs that complement the natural surroundings at The Isles of Collier Preserve. Minto also consulted with experts at neighboring Naples Botanical Garden to make native selections for the residential area landscaping plan that are compatible with the natural surroundings. When the community is complete, there will be roughly 1,650 residences with beautiful views of nature preserves, lakes and waterways.
For more information about this community, call Stacey Reed at 239-247-3657.   Its important to have a realtor represent you when building a new construction home so you have someone working for you in your corner.  If you go to the Discovery Sales Center, let them know that you heard about the community from Stacey Reed at Downing Frye Realty.  I would be happy to go to take you to the Sales Center myself.  Happy House Hunting!