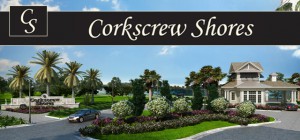 Corkscrew Shores is Pulte Groups newest community in Southwest Florida and is due to be released early summer 2014.  Located 3 miles east of Interstate 75 off Corkscrew Road in Estero Florida, the main focal point of the community is the 240-acre emerald green lake.  The lake gets its gorgeous color from its depth, nearly 70 feet.  It was the site of a former limestone quarry and many of the home sites offer views that take full advantage of the beautiful water.
Pulte is offering brand new floor plans that have been "Life Tested" so the floor plans are more comfortable and more practical while maintaining the modern open  concept that buyers demand these days.   Each floor plan offers various structural options allowing the home buyer to customize their new home, nearly ensuring that no 2 homes will be alike.  Most all the floor plans offer a second floor option with a loft and a bedroom.  Perfect for those times when guests are in town and you need just a little more space.
To view all the floor plans and their various structural options, click this link  CKS Floor Plans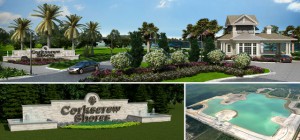 Community Amenities
The Clubhouse will begin construction in the Fall 2014 and is expected to be completed by summer 2015.  The amenities will be entirely built on a peninsula that is located at the front of the community near the entrance.
Resort Pool
Grand Clubhouse
240-Acre Neighborhood Lake
Fire Pit
Tennis Courts
Bocce Ball Courts
Pickleball Courts
Kayak & Canoe Launch
Fishing Dock
Walking Trails
Cottage Series 40′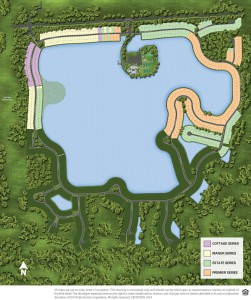 Noir Coast                1,289-1,983 Sq Ft
Taft Street                 1,333-2,183 Sq Ft
Manor Series 55′
Abbeyville                   1,659-2,390 Sq Ft
Castle Rock                 1,762-2,555 Sq Ft
Martin Ray                  1,968-3,016 Sq Ft
Estate Series 67′
Infinity                         2,384-3,282 Sq Ft
Pinnacle                       2,488-3,656 Sq Ft
Tangerly Oak              2,589-3,483 Sq Ft
Stonewater                  2,852-3,852 Sq Ft
Weatherford               3,347-4,283 Sq Ft
Premier Series 75′
Pinnacle                      2,488-3,656 Sq Ft
Stonewater                 2,852-3,852 Sq Ft
Clubview                                 3,078 Sq Ft
Weatherford               3,348-4,283 Sq Ft
(Some of the floor plans are able to fit on both the Estate and Premier lots)
For more information regarding up-to-date pricing, HOA fees and lot availability, call Stacey Reed at 239-247-3657 or 
Also, read my blog on Do You Really Need An Agent When Buying New Construction?